Pan-United launches goTruck!, one-of-a-kind, B2B truck hailing and fleet management platform that connects construction companies and materials supplies with transporters in a seamless digital flow.

Pan-United rolls out the first-of its-kind electronic delivery order (eDO) system for Singapore's ready-mix concrete industry. Besides minimising administrative costs, the eDO is proven to save 13 tonnes of paper annually for Pan-United.

More accolades: Pan-United becomes Singapore's first concrete company to win the "SGBC-BCA Sustainability Leadership Award" under the "Leadership in Green Building Products" category, jointly conferred by the Singapore Green Building Council and the Building Construction Authority.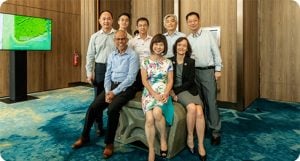 Pan-United designs and produces a 3D-printed concrete bench using NEWSand, a material created form repurposed municipal solid waste slag, in collaboration with Singapore's National Environment Agency.