Primer on CO2 mineralised concrete
CO2 mineralisation explained
The CO2 mineralisation process comes under the umbrella of carbon capture, utilisation and storage (CCUS) technology. This is where carbon dioxide is converted into a solid mineral or carbonate.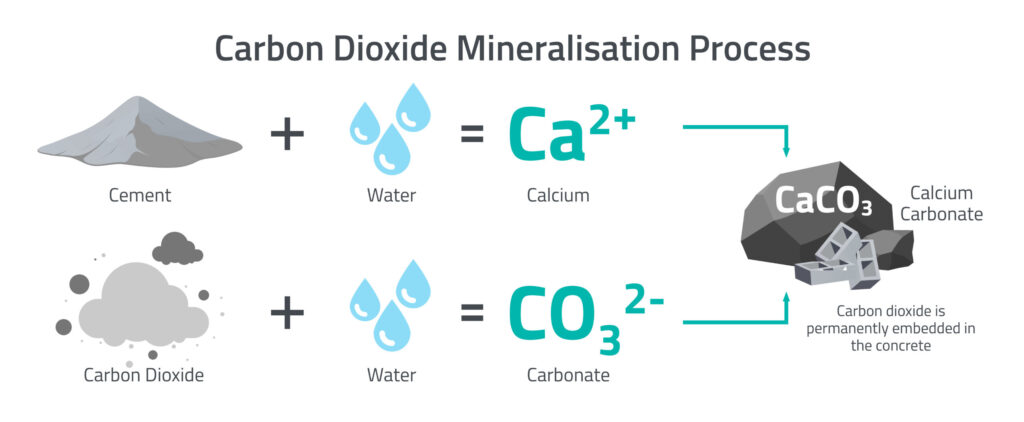 The biggest advantage of CCUS is that the carbon is permanently trapped and cannot escape back into the atmosphere. Carbon is stored in concrete forever as a solid. No more long-term monitoring required.
Other utilisation technologies merely delay the time that the CO2 takes to go back into the atmosphere. For example, CO2-fuel and CO2 for use in fizzy drinks releases the CO2 when the product is consumed.
Source: https://www.cleantech.com/between-a-rock-and-hard-place-commercializing-co2-through-mineralization/
Mitigating the impact of climate change
Pan-United is using Carbon Capture, Utilisation & Storage (CCUS) technology to embed waste industrial CO2 within concrete. This process can reduce up to 49 per cent of embodied carbon emissions that would have been emitted during the construction process.
Additionally, mineralisation increases the compressive strength of the resulting concrete mix. Past projects have proven that the same workability and desired strength can be achieved using 5 per cent less cement – with no change to the setting time of the concrete.
Notably, the product called PanU CarbonCureTM is the first and only CO2 mineralised concrete to be inducted into the newly-formed product category of "Ready-Mix Concrete (Carbon Capture & Utilisation)" under the Singapore Green Building Product certification, which is administered by the Singapore Green Building Council.