Perseverance to continually innovate and decarbonise the built environment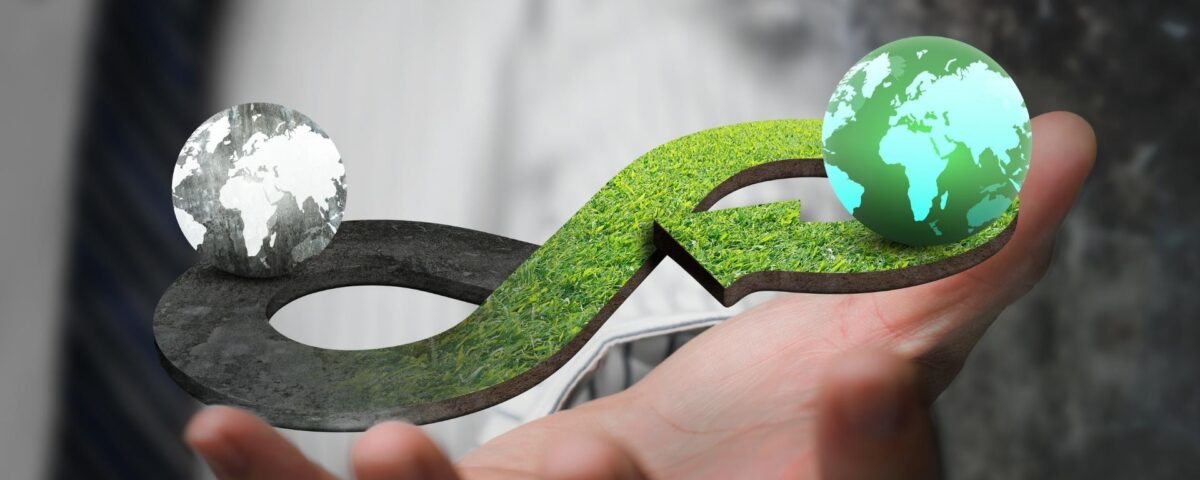 In 2021, the Cambridge Dictionary declared "perseverance" as its Word of the Year, aptly capturing the tenacity and grit displayed by many through the persistent pandemic.
2021 has indeed been an exceptionally trying year for many of us. From coping with a flurry of confusing social distancing measures to operating in uncertain business conditions, the obstacles and challenges were formidable. However, policymakers, corporates and individuals continued to demonstrate strong support and commitment towards reducing carbon emissions.
For example, the COP26 climate summit called on countries to "revisit and strengthen" their 2030 targets in their nationally determined contributions. This was to align with the target to keep global warming under 1.5 deg C above pre-industrial levels, which means that global net anthropogenic carbon dioxide (CO2) emissions would have to drop by about 45 per cent from 2010 levels by 2030.
Closer to home, the Singapore government also unveiled its Singapore Green Plan 2030, charting the nation's green targets for the next decade. Its target is to green 80 per cent of buildings (by gross floor area) by 2030, among other priorities.
Within the built environment industry, Pan-United has taken the lead to implement various decarbonisation initiatives.
Integration of circular economy practices
All aspects of the Pan-United supply chain are modelled on a circular economy perspective in primarily three ways as follows:
INPUT: To reduce usage of natural resources and upcycle waste
OUTPUT:  To produce concrete with a low-carbon footprint
PROCESSES: Digitalising operations and reducing energy waste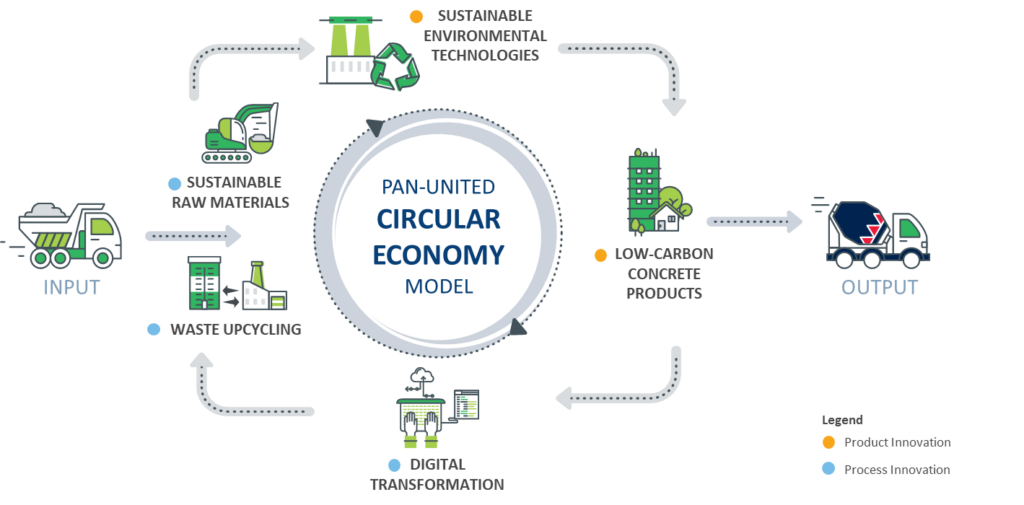 [1] https://dictionaryblog.cambridge.org/2021/11/17/cambridge-dictionarys-word-of-the-year-2021/
[2] https://www.straitstimes.com/world/europe/un-conference-agrees-deal-aimed-at-averting-climate-catastrophe
Tapping transformative green technology
Concrete innovation has enabled Pan-United to develop an extensive range of low-carbon concrete using recycled materials. Besides these, Pan-United makes use of Carbon Capture, Utilisation & Storage (CCUS) technology to mineralise waste industrial CO2  to become a solid carbonate in concrete, through a carbon injection process. This CCUS process can reduce embodied carbon emissions by up to 49 per cent of what would have been emitted during the construction process.
At the same time, mineralisation increases the compressive strength of the resulting concrete mix. Past projects have proven that the same workability and desired strength can be achieved using 5 per cent less cement – with no change to the setting time of the concrete.
Collaborations with industry leaders
Pan-United collaborates with industry peers to identify synergies, share knowledge and explore innovative solutions where sustainability converges with technology. For example, we are partners with the Agency for Science, Technology and Research (A*STAR), Singapore Economic Development Board, JTC and other ecosystem partners to study the development of a Carbon Capture and Utilisation Translational Testbed (CCUTT). The plug-and-play infrastructure of the CCUTT is meant to allow rapid evaluation and testbedding of emerging low-energy technologies which can capture CO2 and convert it for other uses.
Targetted for climate change
At Pan-United, we have set sustainability goals as responsible players in the built industry. To offer only low-carbon concrete* by 2030; To offer carbon-neutral concrete products by 2040; And to become a carbon-neutral ready-mix concrete company by 2050.
*More than 50% in embodied carbon reduction against 2005 levels.